Is it possible to grow long eyelashes?
How to grow long eyelashes?
Eyelash loss happens for different reasons
Eyelashes may fall out for different reasons – age, hormonal changes, medication allergies. Eyelashes may fall out due to chemo therapy, psychological reasons (some people just pull eyelashes out), mechanical (physical damage), allergies to makeup, malnourishment, etc. There could be even chemical reaction to mascara or eyeliner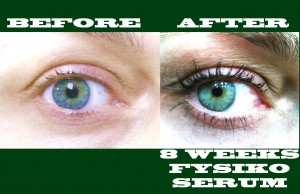 Should I get extensions?
Extensions are great way to get long and full eyelashes fast.
If you have wedding or major event soon and have no time to wait 2.5 – 3 months to grow long eyelashes, then extensions are great way to get long eyelashes fast and not to worry too much about curlers, primers, mascara.
Downside of extensions – you can completely ruin your eyelashes. You can literally end up without any eyelashes at all if you wear extensions for a long period of time and your natural eyelashes are not strong enough to support weight of extensions. Many women use eyelash enhancers together with eyelash extensions to strengthen eyelashes and prevent eyelash loss and damage. Eyelash enhancers are different from eyelash conditioners, because conditioners usually applied to the whole length of eyelash and have conditioning and moisturizing agents. Eyelash Enhancers, like Latisse (FDA approved), Lilash, or Fysiko eyelash serum, applied to the base of eyelashes and help to regrow eyelashes.
Natural remedies to grow long eyelashes
There are some natural ways to condition eyelashes. It wouldn't be as effective as eyelash enhancer, but will fully substitute eyelash conditioner.
Castor oil
Lots of women feel that Castor oil is very effective to grow eyelashes and eyebrows. People have used it to successfully regrow bald areas on the scalp, so it makes sense that it would work on the eyelashes as well. Take a q-tip or small applicator brush, and apply the oil the base of your eyelashes. Many women swear by the ordinary, pure castor oil while others wouldn't use anything except Jamaican Black Castor oil. Whichever version you decide to use, make sure that you avoid getting any in your eyes. Use it nightly before bed.
Egg white
You may have the complaint that you lose your eyelashes frequently. If you are intending to make them stronger, then just use the mixture of egg white and castor oil. Use 2 drops from both the mixture and mix them together, apply with the lashes brush and leave it overnight

Biotin
Biotin can seem like a miracle pill for people with hair loss issues. People that take biotin supplements report increased hair growth as well as improved hair strand quality. The only issue is, increased Biotin intake results in hair growth all over your body, not just where you need it. Good news for your brows, not so good news for your legs and underarms. Take a razor to the hair growth where you don't want it, and enjoy it where you do want it. Take 5000 mcg's of Biotin daily in order to see results. You can also eat your Biotin by consuming foods like bananas, pecans and sardines.
Vitamin E
Good old vitamin E oil has been successful for years in helping some women grow back their eyelashes. Applying the oil to their eyelashes has either resulted in thicker strands, new lashes, or both. You can buy the Vitamin E as an oil, or else purchase the gels or capsules, and squeeze the oil out. Some women are afraid of putting the oil near their lash lines, and instead ingest the vitamin E supplement. Check with your doctor.
Emu Oil
Emu oil is made from the fat of the emu bird from Australia. It's an easily penetrable oil that stimulates dormant follicles into producing hair again. A number of people have achieved success in growing scalp hair with emu oil, and people using it on their eyelashes have been pleased with the results as well. Apply a light coating of the emu oil to the lash line in the evenings before bed.
Eyelash conditioners to grow long eyelashes
Very often eyelash conditioners used to help to grow long eyelashes.
Eyelash Conditioners moisturize eyelashes and lock this moisture inside to condition eyelashes. Eyelash conditioners usually come in the tube like mascara with applicator which looks like mascara applicator as well. Eyelash conditioner or eyelash night treatment is applied to the full length of eyelashes from base to ends to moisturize and condition eyelashes.
Why diet is important if you want to grow long eyelashes
Our body distributes important vitamins and nutrients to vital organs first. If diet is lacking vitamins and proteins, there is not enough building materials to build new cells and support vitality of eyelashes, eyebrows, hair, nails. Lack of vitamins and proteins may cause skin to look dull as well. Eyelashes get weak and stop growing, eyebrows go bold, hair lose its shine and look damaged and nails get flaky.
Most important food in your diet if you want to grow long eyelashes - proteins.
Proteins are building blocks of cells, not enough proteins means eyelashes have no strength t0 grow, create new cells.
Biotin, Iron are important.. there is a good article about food to eat and what vitamins to take for eyelash growth. Read it here.
Eyelash enhancers which help to grow long eyelashes
More about Fysiko Eyelash Serum read here
Read here what vitamins are important for your lashes